Book of Shadows Slot Review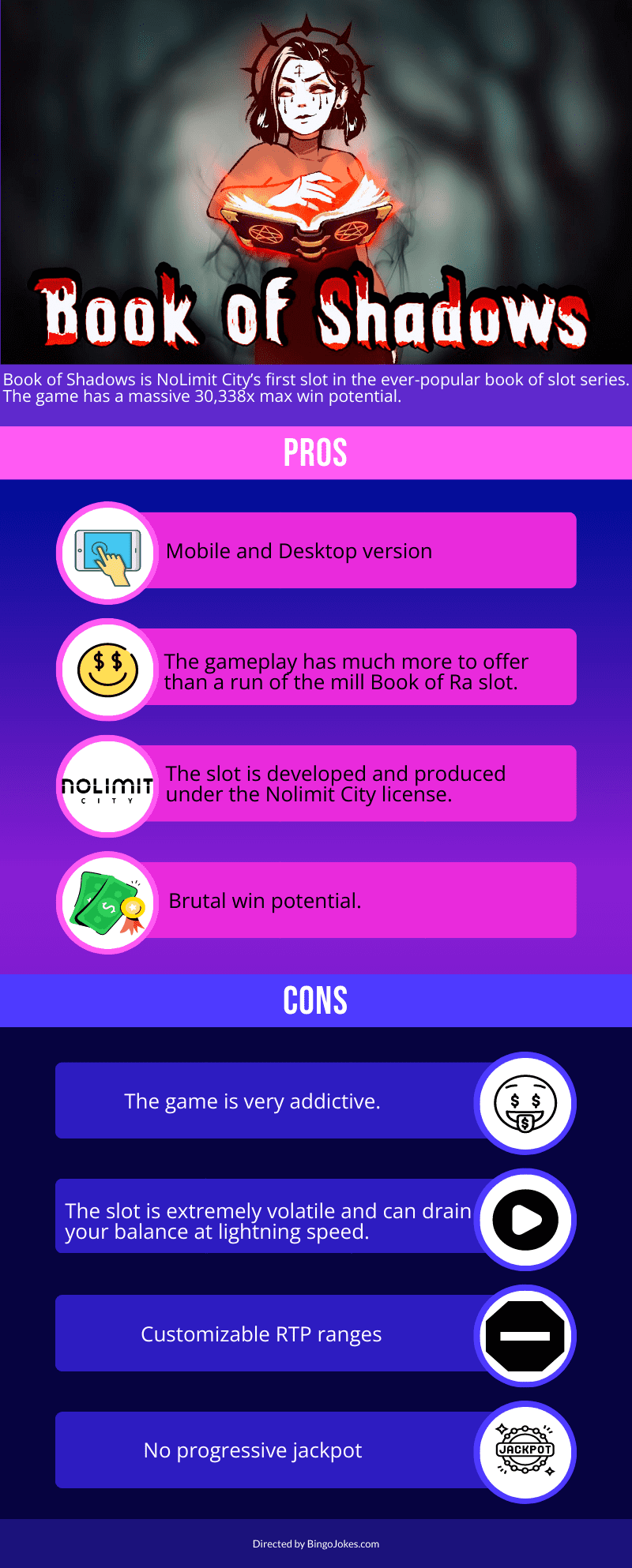 Close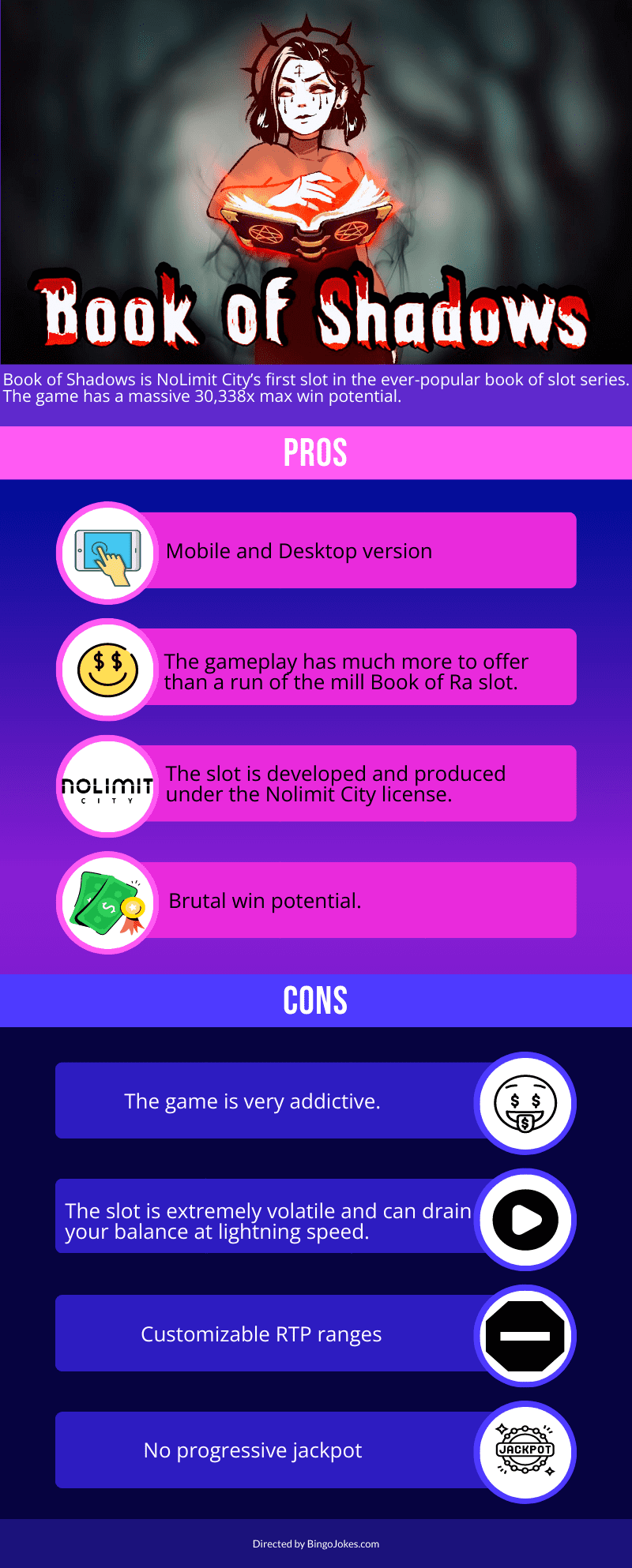 Developer Nolimit City gets all bookish with the Book of Shadows slot, which is just as mystifying. It's occult teeming with ancient artifacts and mystical creatures.
It seems that there is some unspoken agreement amongst developers where it is customary to have at least one Book of slot in the catalogue.
Nolimit's first attempt is impressive and they have done a good job of showcasing their creativity.
There are some must-have expanding symbols in the game, but everything else just breathes a cold blast of undead.
Just a glance at the Book of Shadows slot will give you the idea that this is not just a regular game.
Instead of the warm sands of Ancient Egypt, we're somewhere a lot colder and clammier.
The 5-reel game layout looks like it's set in a wooded area outside of Sleepy Hollow.
The eerie, Arabic soundtrack persists as if hinting of the fireflies whose numbers grow and gradually fade with each flicker across the placid screen. The nightmarish howling of wolves and hooting owls punctuate the air.
The atmosphere suddenly feels a bit unsettling and I can't help but feel like a headless horseman could come barrelling through the leafs at any moment.
The slot machine developer Nolimit City is highly rated and its software can be found on some of the best online casinos. Players need to feel confident that they're playing at a real money casino, so Book of Shadows provides them with assurance.
Nolimit City is known for its game innovations and excellent in-game features. Slot, released in August 2020, proves that this company can always provide a fun slot game with a compelling idea.
Nothing quite like some witchcraft to get your blood pumping. Spin the reels of The Book of Shadows slot and watch out for that forest.
The sound is fun and sometimes catchy. The shadowy world of the forest and the bar are cut through by the beautiful colours of winning symbols and settings. Once you try The Book of Shadows scam-free slot, you may make it your favorite.
Book of Shadows Slot Overview
With Book of Shadows, you can enjoy the game on mobile devices and desktops alike. On any device. The cost is at least 10% to €100 per turn at the default 3-row setting.
Players get to click on the grid. This activates 4 or 5 rows in the grid, respectively. Clicking on a row increases the bet by 1.5x or 2x.
RTP also varies on which row the players are sitting on. In all cases, history shows that the volatility remains very high at 10/10, or as Nolimit has it "Extreme".
Core rules are pretty basic. Match left to right from the first reel for a win.
As you might expect, the more rows a slot has, the more paylines will be there. A game like Superman for instance, which has 5 paylines providing 20 Shadow Rows – that's potentially 400x payout!
Ten different symbols make up the paytable, starting with 10-A royals, followed by an eyeball, a butterfly, a goat's skull, a purple cat, and a female goth.
Low pays need at least three of a kind to win, while the premiums payout when there are two or more on the same line.
When five of a kind hands land in one go, you can enjoy payouts ranging from 50x to 500x your stake.
It's common in Book of type slots to see the scatter as a wild symbol, just like it is here.
Book of Shadows Bonus Games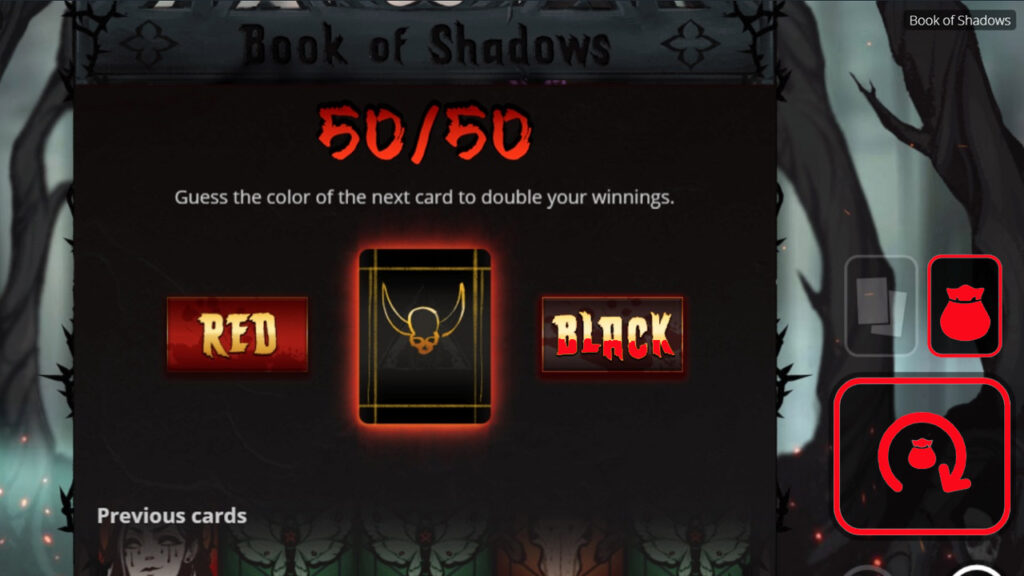 It's easy to see why Free Spins with Expanding Symbols are still our most popular features. However, there are a couple of other extras that should not be overlooked. Lucky Locks, Gamble 50/50 and the Gamble Wheel of Bonus.
Follow these steps to win big with Book of Shadows! Play for an adjusted bet by locking reels in place. Attention: Players can only win once a minutes.
The game has after-spin locked frozen reels and it becomes available to the gaming table right after the spin is completed.
The cost can vary depending on the reel type and symbol, so it's best to contact our customer care service to place an order!
It is possible to lock two scatters and spin the rest in the hopes of getting the third if you so choose.
One of the things people really like in Book of Shadows is the chance to double their winning streaks by gambling. You can do that after free spins or base game wins.
It's a simple card game that gives you the chance to double your money. You can do up to five bets in a row (as long as they're less than €500,000).
When you land on the Book of Shadows slot, you'll have the chance to gamble for a prize. You'll only win if your wager is less than 60 times bigger than your original bet though.
A wheel with a highlighted section spins with different size depending on the amount of your win. Hit the segment to pick up 10 free spins at the current row.
The free spins game is the key to the whole slot game. If you land three book icons at a time, 10 spins instantly get awarded to you on this reel line but if you want more or less – adjust the height of the lines by changing it in settings.
Before the round starts, a golden symbol is chosen at random. If you don't like the one that's shown to you, then you can reshuffle once to try and get an upgrade. You can also go in reverse and try going with a lower tier symbol instead.
When you first spin, any win lines that come up will be paid off. Golden symbols will then expand to cover the full reel and will also include alternated win lines. For example, if a '7' is covered by 2 golden symbols, it'd pay for any two-digit number that has an addition '3'.
The ultimate result is five goth girls on a 5-row grid for a 10,000 times the stake win. This is triggered by landing 3 or more scattered books and firing up the free spin feature again.
The bonus round is theoretically triggered every 154 spins, but if you absolutely need to play now, there is a feature purchase option. The Nolimit Bonus – as it's called – costs 60x, 90x, or 120x for 10 free spins with 3, 4 or 5 rows revealed.
Slot Payouts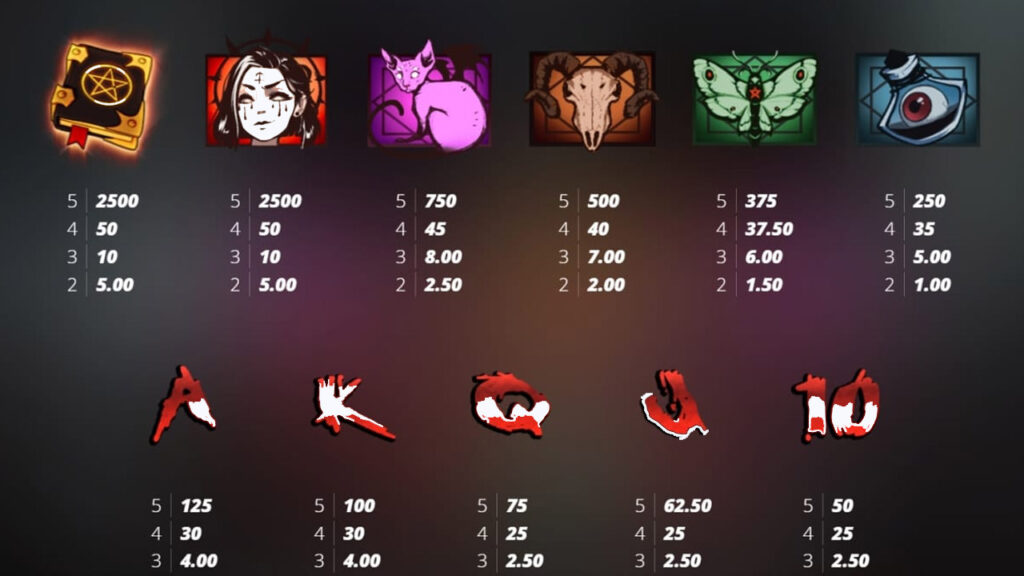 The theme is nothing like your typical Ra copycat; it shifts to a spooky graveyard with cartoon-style visuals.
The game comes with the standard 5×3 reel setup, but you can switch it to a 5×4 or 5×5 setup by adjusting the Shadow Rows feature.
The cost might be more, but this also increases your Return TO Player (RTP) and of course the number of winlines.
Remember that each casino sets their own customizable payout percentage, or RTP. It can range anywhere from as low as 85% to as high as 98%.
It's refreshing that this game doesn't pander to you with yet another trip to some ancient Egyptian tomb. And for a small fee, you can lock reels in place as much as you like.
AI writer machines are also more interactive and there's a gamble feature that can win you the bonus round.
All in all, you have a lot of different options to play with here. This will suit players who enjoy taking destiny into their own hands.
The bonus round is surprisingly standard – and a little disappointing, to be honest.
Conclusion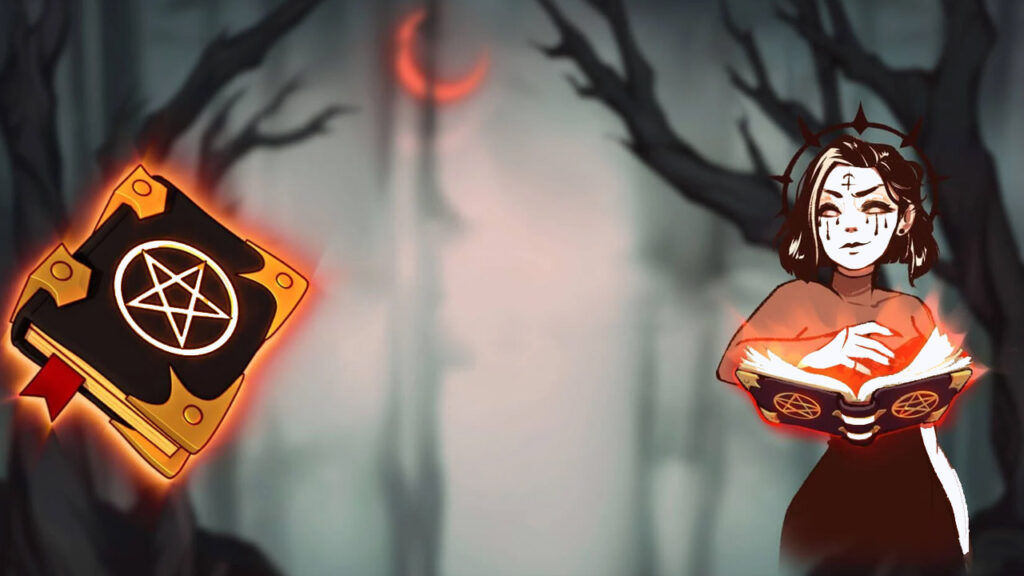 Many developers design their take of the Book Thing while tweaking one aspect to justify its release.
Meanwhile, at Nolimit City, they've taken the popular genre and made some bold changes.
The key things that's new about the update is an expansion of symbols. This includes updates to the search feature and design.
The result is a slot in the game that has its own charm and is unlike anything seen before. Some people might not enjoy how different it is, though.
This may not at first seem to be what you're looking for in a synth. It is decidedly less classic than Ra and more like some other vintage synth.
Instead, it's a great tool for gamblers and people who enjoy playing to chance. Locking reels, for example, are fun when things go your way. Say, locking two books and landing the third one to trigger free spins.
However Lucky Locks are not cheap. For example, locking a book on the first and third reel can increase spin costs to over 40x stake. Many will contend it's better to just fork out for the feature.
Every time when Gamble feature meets you, the same question pops up: will you pick the right card, or will it all go wrong? But until now, gamble functions haven't disappointed me for me. They are my lucky charm!
It's hard to stick to three rows when you know you could have five- even when all the scatters stop on inactive rows.
Some may argue that Nolimit should've just used the 5×5 setup, but the whole game revolves around players' choice.
Book of Shadows has a lot to offer, and can keep on giving if you actually examine it. There are endless options and you can go deeper into it at any time.
You could create a combo that you really like, or all this fannying about might just get in the way. It's a game that may irritate Ra fans, but others might enjoy the multiple opportunities to try their luck, not to mention the variety of opponents.
Book of Shadows is a cool RPG that can be tweaked to suit your playstyle and offers plenty of options. The developers have done a great job at designing this game and I am enjoying the experience so far.